Our blog has talked a lot about the places we have visited and our observations of India, but not much about what we have actually been doing with our organisations so……..
As mentioned in previous posts, I have been working with an NGO called Manovikas Charitable Society.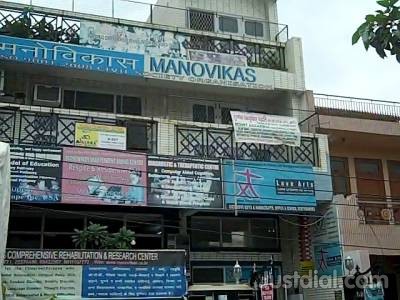 Manovikas runs a small special school, for children below the age of 14 with disabilities, with the aim of integrating them into mainstream schools. It's current focus is developing education for students with developmental disabilities (an all-encompassing term in India for people with learning difficulties, autism, cerebral palsy) post 17 which will lead to employment in an mainstream environment. There are currently sporadic "vocational workshop" employment opportunities, however the Director of Manovikas has recognised that many people with developmental disabilities do not require sheltered employment, just specific training for mainstream workplace.
When I arrived outline programmes had been developed and Manovikas has just gain recognition as a Community College, of the Indira Ghandi National Open University – IGNOU, (the equivalent to the Open University in the UK) – meaning it could deliver courses for which students would be awarded a qualification from

IGNOU. My first task was to amend and develop the programmes in order to fit with IGNOU's requirements.

We have developed 5 programmes, the teaching for which is a minimum of six-months but can be longer, depending on the student's requirements. The five programmes are Personal Management – ensuring students have the underlying skills necessary for employment such as, travel skills, money management, interpersonal skills etc. The four other programmes are then Retail Assistant, Basic Business, Hospitality Training and Office Attendant – all of which include social communication and workplace readiness units and then specific units to their areas.
At the end of the taught programme students will be found an internship placement, with a local company (we have just had a cohort of students in local restaurants etc.) and will then be provided assistance and support to find an maintain a job. The aim being that the programmes will enable the students to have long term, independent employment .
I've been involved in writing the outline of all the programmes and summarising what the content of each unit will be and how this can be taught to students with learning difficulties.
www.manovikas.co.in/mcc
In addition to the programmes for students with developmental disabilities Manovikas also run IGNOU courses for those working with people with disabilities. Three of these of been newly developed and one of them is "Occupational Therapy perspective to rehabilitation for children". This course is aimed at teachers and carers for whom it would be useful for them to have an understanding of OT and strategies for them to incorporate into their work. I am currently trying desperately to finish writing the sessions and complete the presentations for this. It has been a really good exercise in remembering what OT really is and why I like being an OT!
In addition to these major pieces of work I have also completed a few business proposals, for additional funding and service development. The latest being a proposal to identify partner organisations across India, who would be supported to obtain Community College Status from IGNOU so that they can also run our five programmes for students with developmental disabilities. This afternoon I'm undertaking a workshop for the staff about Sensory Processing Disorder, which will hopefully go OK........
I'll leave Daniel to explain what he's been up to.